Awesome news just in for the busy festive season. The "natural look" is in. Result! Run a brush through your hair and dab a bit of concealer on any obvious pimples, and off we go.
Oh … wait. The "natural look", according to Kim Kardashian, for casual days when she's doing her own makeup, involves "old school, heavy foundation" and "a matte bronzer … I always contour my nose, and I love to contour my cheeks." That messy bob Gigi Hadid had for the American Music Awards? Turns out it was a wig, which her hairstylist casually noted took two hours to put in place, after which there was some additional styling to be done. (He recommended an $18 volumising power that "makes you look like you just casually pushed your hair back".)
At last month's Victoria's Secret show, the beauty buzzwords were "minimal", "natural" and "simple". There was talk of little flushes of blusher, and of working with the natural texture of each girl's hair. Confusingly, though, there were also endless photos of the models sitting patiently at their makeup stations, hours before call-time, with their hair netted in hot rollers.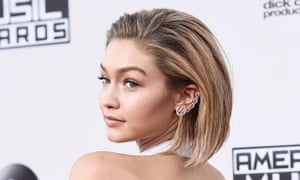 The relationship between how we look naturally and how we wish we looked naturally has always been highly charged, and one that many women negotiate at least in part with their fingers crossed behind their backs. Nothing new here: it has fuelled a cultural fascination with lucky winners of the aesthetic-genetic lottery from Aphrodite to #wokeuplikethis. The Pollyanna viewpoint would therefore be that since artifice and aspiration will always be with us, it is more wholesome to celebrate a healthy, flesh-and-blood complexion – even one enchanced by a little flush of blusher – than the blanking out of the self under a full mask of makeup.