Anew breed of fashion designer is putting ethics at the heart of everything they do. No longer is sustainability and social responsibility a token extra or cynical marketing ploy. The smartest brands are the ones taking full responsibility for every step of the process, from the supplier to the maker – and in some cases the aftercare of the product, too. These are designers interested in quality, never quantity – a generation making clothes we will cherish, that will make us consume less and make the best possible choice when we do.
Next week the windows of Selfridges in London's Oxford Street will be dedicated to the store's annual Bright New Things. This year the focus is on designers who are making innovative and beautiful products in a clean, transparent way. The store consulted the Centre for Sustainable Fashion to select and mentor nine designers to showcase in its windows. One BNT will be awarded a bursary of £30,000 to support their work.
Here we introduce five of the brightest, newest things and find out why crochet, fishing nets and old-fashioned hand weaving are the future of fashion.
Katie Jones: 'With sustainability you decide what to target'
Katie Jones (previous spread) loves to crochet. She loves it so much she will spend 80 hours working on a single jacket, piecing together upcycled leather and denim to make a glorious patchwork of the finest craftwork it's possible to find. Along with her mum, Annie, and her right-hand woman, Sara Liz Marty, everything Jones produces from her studio in Stratford, east London, is a labour of love. "We each have our specialism," she says. "My favourite pieces are the denim and the leather pieces, which are hand punched and crocheted into and joined together. I'm in my element and at my happiest when I'm doing my crochetwork."
Jones, who graduated from Central Saint Martins with an MA in knitwear in 2013, doesn't like to waste anything. She goes out of her way to use up ends of runs of wool, and second-hand clothes which she cuts up to remake into her own designs with hole punching, hand embroidery, hand dyeing and knitting. Her collection for spring/summer 16 is a riot of kitsch Tex-Mex inspired colour and texture – jeans with multicoloured stars and hearts, knitted cardigans with sweetie-coloured ribbons as fringing, a simple summer dress made from reclaimed denim panels pieced together with Jones's bright and breezy crochet trademark. Jones's approach comes from a belief that the planet can't take much more overconsumption and gratuitous waste. But she is not on a mission to save the world.
"You pick a couple of battles when working with sustainability and decide what you want to target," she says. "The one we tend to focus on is reusing all waste – how you can make something new but without having to use any new fabrics – or if I do purchase anything new it's from British manufacturers where you know the supply chain. I also love the bespoke and handmade element. When you know who made it and the piece itself, it is less likely to be wasted."
Margot Bowman and Diana Auria: 'It's playful , sexy and hyper smart'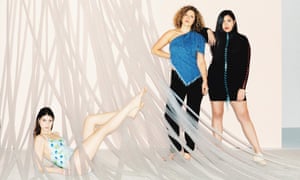 Diana Auria never learned to swim, but that hasn't stopped her building up a thriving swimwear brand. Her partner Margot Bowman, an enthusiastic swimmer, more than makes up for her lack of butterfly.