How Your Love For Fashion Is Killing The Planet And What You Can Do About It
Are you as hooked to 'Tidying Up With Marie Kondo' as the rest of the universe seem to be?
If you're one of the many who've been inspired to tidy up and embrace the minimalist life, what do you plan on doing with your trash, especially clothes that doesn't "spark joy" in you?
GAMBAR: CHEATSHEET
Does it spark joy?
Don't just dump them in the trash! It's going to end up in the landfills, and pollute the earth even more.
The environmental impact
GAMBAR: THE DAILY STAR LEBANON
Particles from synthetic materials ends up in the sea
For years, the fashion industry has been the second largest contributor to environmental problems, and with our thirst for cheap and varied clothes, it doesn't seem like the situation will change anytime soon.
The life cycle of a garment, from the planting and harvesting of raw materials till its end, has vast environmental impact.
According to this report, over 70 million trees are logged each year to produce fabric, millions of barrels of oil are used to make polyester fibre (a large percentage of material used to make clothes that are available in market today) and these materials take at least 200 years to decompose.
All these even before the fabric is created!
The social impact
GAMBAR: ALJAZEERA AMERICA
A garment worker in Dhaka, Bangladesh
A lot of us opt for mass produced clothes because it's cheaper, even if it doesn't last long.
However, the price for the cheap clothes are paid by cotton farmers and factory workers who are often paid too little, face abuses from their bosses and suffer from health issue due to chemicals used in garment-making industry, being overworked and working in badly lit buildings, among others.
Changes can be seen since the outrage over the death of over a thousand garment factory workers in Bangladesh in 2013 in terms of workplace safety which forced new legislation and guidelines to be put in place.
Big companies like Primark, Tesco and ZARA, as well as smaller brands, were forced to pay more attention to how the garments they sell are made or risk losing business.
However, the changes are superficial at best. Some, like this report, claim that only things like the soundness of infrastructure that can be easily audited are followed by these companies.
GAMBAR: RTE
About 50,000 garment workers were involved in a strike. Jan 2019, Dhaka.
Earlier this month, thousands of garment workers in Bangladesh took to the streets to demand better pay and the strike seem to be still ongoing. About 52 factories were closed for at least a week and one worker has been killed so far.
There is a minimum wage set by the government in Bangladesh, but it is the lowest in the world. The workers say that the wage is not in line with the rising cost of living, making it difficult for them to make a decent living.
All things considered, is it time for us to pay more for our clothes?
The Malaysian Situation
GAMBAR: BOOMFASH
Malaysians buy and throw away a significant amount of clothes each year
According to Kloth Cares, about 2,000 tonnes of textile waste ends up in our landfills, which is roughly 5 per cent of all solid waste Malaysians produce in a day.
These fabrics produce monoxide – a greenhouse gas that contributes to global warming. The dye used in textile production also seeps into the soil and water sources polluting them.
ALSO READ: These Local Brands Are Offering Sustainable Fashion
Some of the particles from the fabric ends up in our oceans, affecting marine life and even ending up in our food supply. In fact 85 per cent of particles found by the beaches are remains from synthetic fibre.
A survey of over a thousand Malaysian by Singaporean company, YouGov, showed that 27 per cent of those surveyed have thrown away clothes after only one wear (why, though?). It also showed that 65 per cent of the number also threw away clothes in the last year.
The data gets even more interesting. More than 37 per cent of millennials said they bought at least half of the clothes in their closet at the time of survey within a period of 12 months.
We could go on…but you get the picture. We consume way too much and create a crazy amount of waste that is slowly but surely contributing to the demise of world as we know it.
GAMBAR: THE HOLLYWOOD REPORTER
We may need a bunch of Wall-Es soon to help with waste management
The good news
PIC: REAL.M
An example of what you could find at UNPLUGGED
The somewhat good news is that there is an increasing number of companies that are trying to produce and sell more sustainably produced fashion. It's an uphill battle that'll probably take many more years to fully take off, but as Confucius said 'journey of a thousand miles starts with a step'.
One of such companies is UNPLUGGED, a conscious select store which is set to open its doors early February. The brand aims to encourage a culture of 'unplugging' and taking things slow.
The store will be featuring several brands from Malaysia and overseas that make and sell products in a more sustainable way.
UNPLUGGED co-founder Najmia Z said that sustainability is not just about being eco-friendly but also includes fair trade, fair wages and other aspects.
"Sustainability is so wide. It's hard to champion all aspects but that doesn't discount those who try," she said, adding that the company uses a self-created matrics with which it measures its partners.
"A long as the brand fits into at least one or two of the matrics, we are willing to work together," she said.
Some of the matrics the company looks at are zero waste products, social impact, preservation of traditions, fair trade and environmentally friendly procurement.
GAMBAR: FREAKING NEWS
Show the world some love
Najmia added that the main issue that sustainable brand retailers face is the price point.
"People have a mindset that sustainable products are expensive…But when you buy cheap products, you have to replenish them very fast. That's the marketing plan.
"When you buy something, make sure it lasts and is of good quality," Najmia said speaking about being more sustainable and reducing waste.
PIC: KANOE
More local brands are getting on the sustainable fashion trend
Another local brand that tries, in its own way, to be sustainable is KANOE. ​Its owner and fashion designer Noelle Kam said that the company tries its best to use materials that are more sustainable, reduce waste and care about the people who are part of the work ecosystem.
"I've always wanted to do something beneficial to the environment and people, which is why I got into sustainable fashion, " said Kam.
Kam, however, conceded that organic and handmade items are expensive in Malaysia and it's a struggle to maintain a balance between being sustainable and making a profit.
"If you can't be financially sustainable, how are you to be environmentally sustainable? Which is why I'm starting slow and hopefully be able to step up my game as we go on," she told Rojak Daily.
You can read about more sustainable local brands here.
What you can do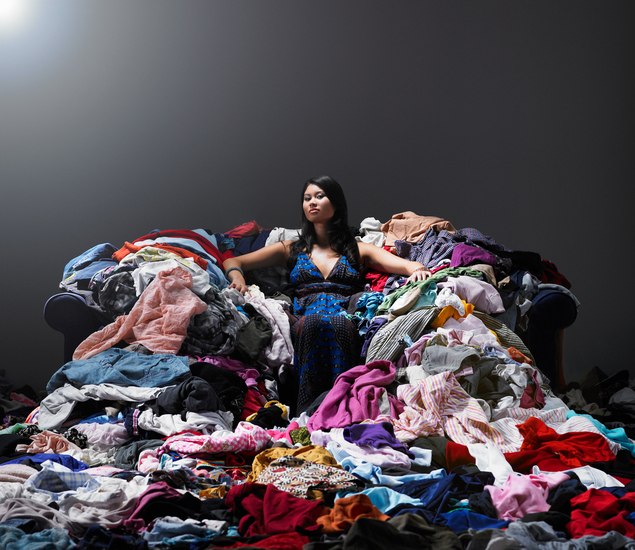 GAMBAR: YOUGOV
Wanna be a sustainable fashion queen?
Now that we're done with the doom and gloom, here's what you can do to help the situation and still remain a fashionista.
#1 Sell your clothes
GAMBAR: MODEL VICTORIA XIPOLITAKIS'S INSTAGRAM
More money to spend!
There are several ways you can do this. You can sell them via apps like Carousell and Duriana or at stores that sells secondhand goods such as SellEz, Clear My Clothes and Refash.
If you have the time, you can also book a stall at RIUH's Preloved is Reloved event and car boot sales closest to you.
#2 Donate them
GAMBAR: YUVAMAURITIUS
One person's trash is another's treasure
You may not need some of your clothes anymore, but there are many who do! Dig out those items that's been relegated to the backs of your closet, the ones that looked good at the store but didn't look quite as good when you tried it on at home and the ones that you're just bored of. Make sure they are in good condition before you give it away.
Some of the places you can donate to are BLESS Shop, Kechara Soup Kitchen, Jumble Station, Kedai Jalanan UM, and Mostwell Sdn Bhd.
#3 Recycle
GAMBAR: SINGAPORE HOME DECOR
Don't forget to bring along your unwanted clothes the next time you hit the mall
Even clothes that have tears or stains can still be saved. Famous outlets such as H&M, Monki and Uniqlo accepts garments that you no longer want. The stores accept any brands and the first two even give you shopping vouchers for your efforts!
Other places you can send your clothes for recycling is Kloth Care's bins in Lot 10, Community Recycle for Charity (CRC) or Tzu Chi Foundation Malaysia.
#4 Remake
GAMBAR: VIRALVIDEOS
Remake your clothes to give it a new life
If you're good at sewing or know someone who does, you can give your old clothes a fresh look. From simple modifications like adding lace and turning a long skirt into a shorter one to changing the look completely, your choices are endless. Plus, no one else is going to be wearing the same thing as you!
#5 Swap
Gather your friends and family and have a clothes-swapping party! You get to spend time together, try on clothes, accessories, shoes and whatever else you wish to exchange and leave with a brand new wardrobe.
#6 Stop and think
GAMBAR: FUNNY PICTURES PLUS
Take your time
Walking in the mall, you enter your favourite store and something catches your eyes. You try it on and fall in love instantly…but wait. Do you really need it or is it just a want?
It's different for everyone but we found two tips useful when purchasing something that's not entirely necessary.
First is going back home after seeing something you like and if after a few days you still want it, buy.
The second is to get rid of one item for every item you purchase. This way, you won't collect too many things which usually ends up not being used anyway.
#7 Choose more sustainable brands
GAMBAR: PCD NETWORK
Make good choices
The first step will be asking: 'Where are my clothes coming from?'. Once you know the processes and the practices of a brand, it's a lot easier to pick where to shop from.
The more people do this, the more companies at every stage of the fashion industry will have to relook at how they do things. Hopefully, it will be a common enough practice that eventually the prices of sustainable products won't be as high as it is now.
It may seem like an expensive choice, but if you shop less and keep the items longer, you may even be saving in the long run.
#8 Take it slow
GAMBAR: TEEPUBLIC
Learn from the sloths
You don't have to be all radical and change your ways overnight. It'll just get frustrating, especially if you really love fashion and considering that sustainable fashion is still at its early stages.
Take little steps like sorting your clothes to give you a picture of what you have and how many of them you actually use, saying no to plastic packaging, educating yourself on the issue, and giving away a few of your belongings, even if it's just to your siblings.
Slowly but surely, you'll learn how to save the planet…in style!
["source=rojakdaily"]