Lace slippers, silk slips and late-night lingerie: fashion embraces hotel-room hotness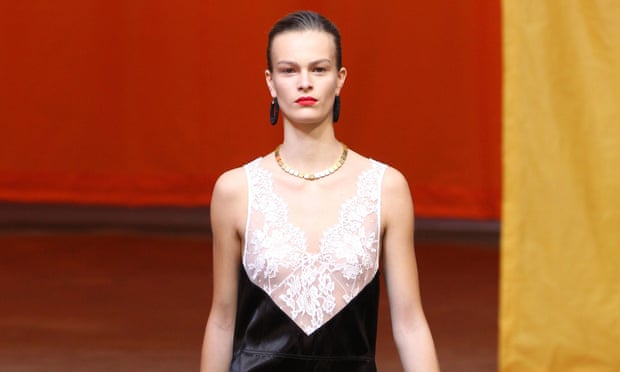 Every fashion week has a defining pair of shoes. Be honest: the one catwalk item you actually remember from the previous season is the Gucci fur-lined loafers, right? And that's fine, because that one pair of shoes told you everything you needed to know about where fashion was at – geeky but luxurious, challenging but not uncomfortable.
This Paris fashion week's shoe-shaped soundbite came on Friday evening, at the Balenciaga show. Balenciaga wasn't, funnily enough, a collection from which anyone expected much this season. It was the last collection by Alexander Wang, who had already been announced as leaving the label – a departure that has come precisely because his Balenciaga collections, although well-received, weren't setting the fashion agenda in the way of Hedi Slimane's Saint Laurent, or Alessandro Michele's Gucci.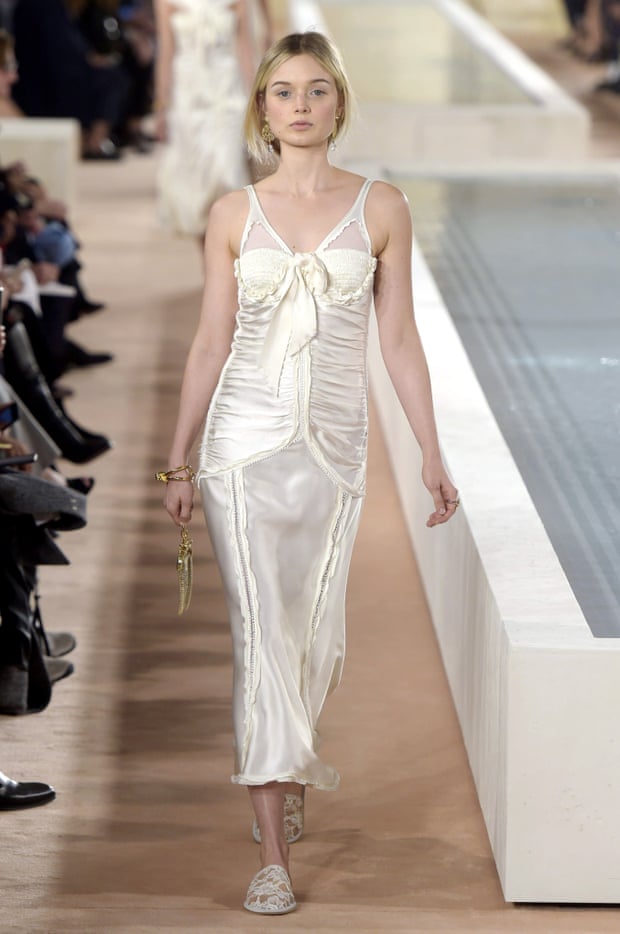 But, as it turned out, this show was more than a footnote. Perhaps in being set free from expectations, Wang was free to experiment, but this was where The Shoe happened: the shoe that is the soundbite for the season, that is. The shoe was a lace slipper. Not a fancy, Cinderella-ish slipper, or an off-to-Barrecore-ballet kind of slipper, but the kind that you find in smart hotels. But lace, not cosy brushed fleece – which immediately tells us that we are in sexy-hotel-room territory. This woman – dressed in her delicate ivory silk bias-cut slip, hair prettily messed rather than vigorously backcombed – is ordering champagne on room service, not peppermint tea.
This Paris fashion week look is hotel-room hotness with a side order of Courtney Love. The Balenciaga collection was entirely ivory – not the bright white of Monday morning shirting, but the flattering, pearl, late-night gleam of lingerie. Five of the first six exits at the Céline show included knee-length silk slips, either black with white lace or vice versa, the erotic undertones emphasised by bright red lipstick; one model wore a white fur dressing gown coat. There were yellow lace camisoles peeking through black mesh at Sacai, and lavender silk dresses with lace inserts at Christian Dior. Stella McCartney – who used to feature slip dresses in her original own-label collection in the 1990s – put them back on the catwalk this season.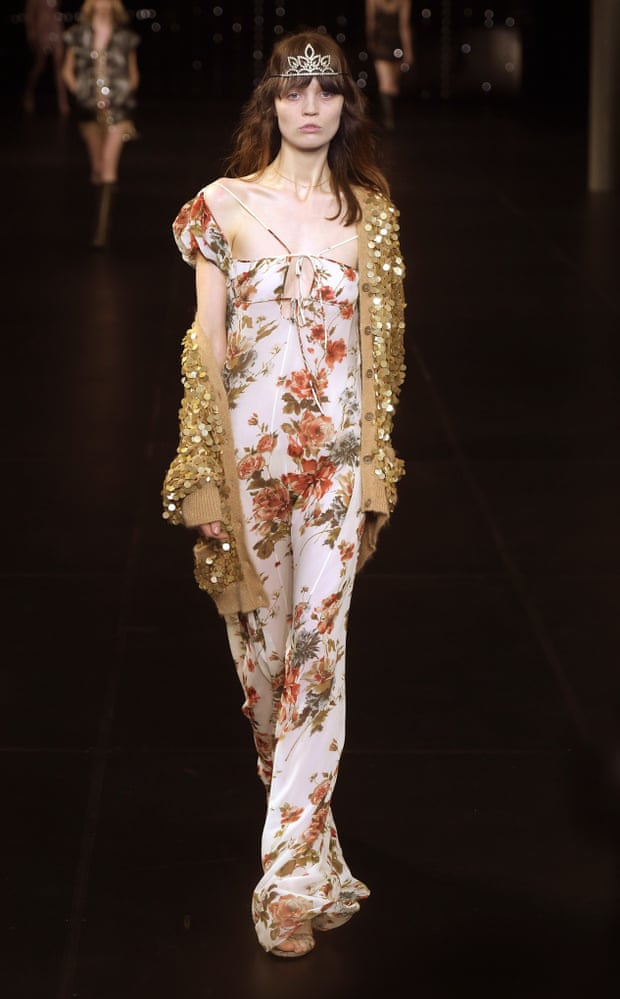 The 90s have a lot to answer for here. The Saint Laurent collection, which put vintagey slip dresses with tiaras in indie-messy hair, traced a direct line back toCourtney Love at the Vanity Fair Oscar party in 1995. But there is something else happening, too: a sense of fashion feeling its way back from the aloof, cerebral, senior-gallerist chic that has ruled Paris for the first half of the decade, and towards something more sensual and emotional. Backstage at Céline, designer Phoebe Philo talked about "how clothes make us feel" and "how it feels to wear clothes".
There were other telling details beyond the lace slippers. The necklines, for instance: for all the plunging necklines, there was no cleavage. This is not sex in the push-up bra, Victoria's Secret sense, but something more intimate than that. As Philo said, it's about what feels good, rather than just what looks good. It is not about the pursuit of the body beautiful – the sports-referencing racerback shapes that have dominated summer dresses in the past few years were suddenly gone, replaced by old-school spaghetti straps. And – most shockingly of all – it is not about pyjamas, which have become a red-carpet look (see: Grace Coddington at the Met Ball), but which took a back seat on the hotel-room moodboard this season. Can the nightie really stage a comeback? I wouldn't rule anything out, frankly. There were a lot of people wearing furry Gucci loafers this season, after all.
Four more trends from Paris fashion week
Ruffles
Sleek is so over. It's all about volume and loads of fabric, preferably in ruffles across dresses and tops. Stella McCartney's were in pretty broderie anglaise-like fabrics and brights such as pumpkin and aqua; the Alexander McQueen collection featured frothy concoctions of putty-coloured gowns in washed leather; Roland Mouret had ruffles on asymmetric tops. Comme des Garçons took the trend to extremes – ruffles covered the models from head to foot.
See-through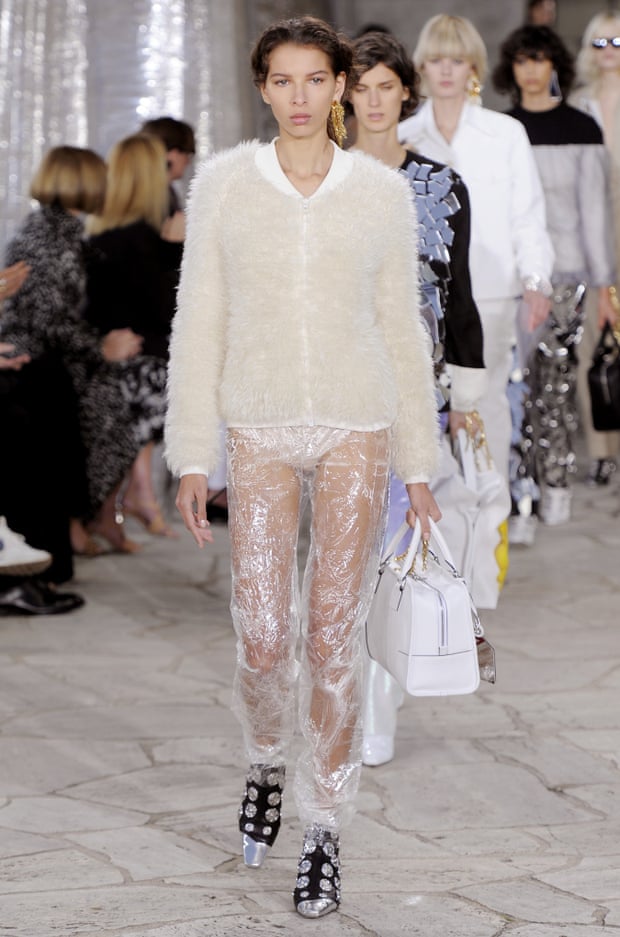 To paraphrase The Devil Wears Prada's Miranda Priestly, "Transparency for spring? Groundbreaking." Still, see-through stuff was everywhere came in various incarnations, from pretty organza at Dior to fishnet and chiffon at Sacai. Our favourite was Loewe, where JW Anderson reworked Iggy Pop's see-through trousers in clingfilm and sent them out on the catwalk. Now that, actually, is a bit groundbreaking.
Tracksuit tops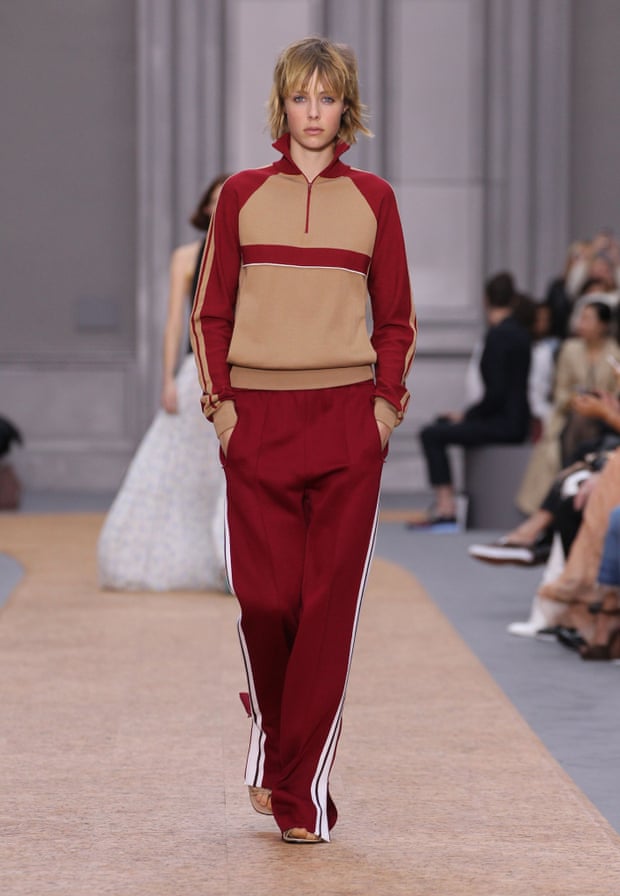 OK, so trackie tops in Paris were limited to the Chloe show, but this was what can be called a fashion moment. Model Edie Campbell wearing a trackie top on the Paris catwalk shows that they are now a bona fide fashion item and could go the way of the sweatshirt. Tracksuit top aficionados FKA twigs and characters in This is England '90 are on this already. We predict everyone will be zipping up this time next spring.
Shoulders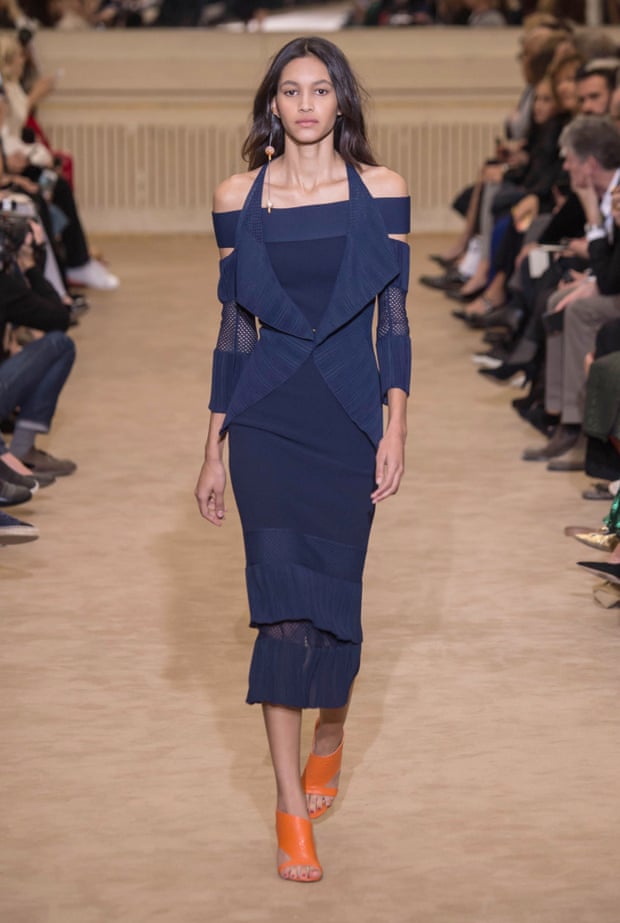 Fashion has a new body part in focus: the shoulder. If Hillary Clinton and her Donna Karan dress predicted the revival of the cold-shoulder dress in New York, her influence extended to Paris too. Cold-shoulder dresses – so-called because the shoulder is exposed in a cutout – appeared at Roland Mouret, while Céline's milkmaid tops were cut off the shoulder in a sort of ultra-scooped neckline.
["source-theguardian"]