Israel Bond Boom Grows as Appeal Spreads Beyond Real Estate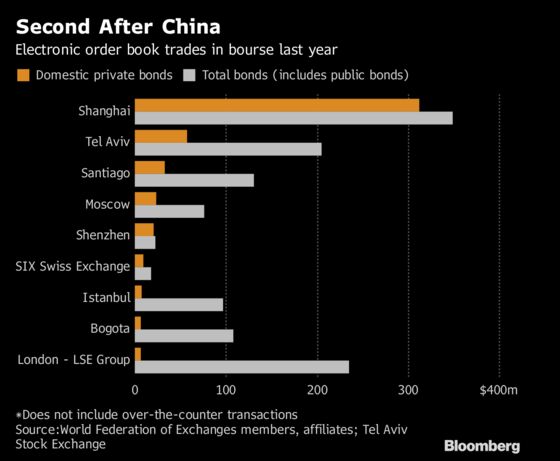 Corporate bond sales through the Tel Aviv Stock Exchange, the largest exchange for electronic trading of private bonds after Shanghai, picked up sharply in the first half of this year.
Ten new companies raised money through Israeli bond sales between January and June, for a total of 6.5 billion shekels ($1.8 billion), more than double the 2.5 billion shekels in the first half of 2017, said Hani Shitrit Bach, executive vice-president and head of listings at the TASE, as the bourse is known. For all of last year, 14 companies sold debt on the exchange.
"We see no sign of cooling," Bach said in an interview. "What's interesting is that while there were only real estate companies listing, now we see business development companies broadening the market into other sectors."
The Israeli corporate bond market is predominantly exchange-traded — unlike its counterparts in the U.S. and Europe — with almost 90 percent of corporate bond transactions handled through the TASE, according to bourse figures. Debt offerings from foreign companies allow investors on the TASE to diversify their portfolios, Shitrit Bach said, while trading via an exchange offers investors greater liquidity than over-the-counter trading.
The Tel Aviv Stock Exchange Bond 60 index has advanced 1.2 percent so far this year and is trading near a record high, while a Bloomberg index tracking investment-grade U.S. dollar global corporate bonds has dropped 3.1 percent.
Israel's benchmark interest rate of 0.1 percent — well below U.S. rates seen reaching 2.25 percent later this year, according to Bloomberg-compiled forecasts — are drawing overseas issuers.
Foreign real-estate companies have been prominent on Israel's corporate bond exchange, including U.S. companies that don't have easy access to their home market. Starwood Property Trust Inc. and Silverstein Properties Inc. started trading debt in Tel Aviv this year. Medley Capital Corp., which has lent funds to more than 400 companies in 35 industries, in January became one of the first non-property foreign firms to raise money in Israel when it listed $121.1 million of notes due 2024.
source:-.bloombergquint