It was 1990 and I couldn't choose which colour frames to have, so I had them all. All the colours. A pair of very large, very round, very rainbowed spectacles, through which nine-year-old me saw a world that, perhaps inevitably, was mainly laughing and pointing. Shame on my mother for giving me the power to decide my own fate, but shame on me for letting them stain the way I'd feel about glasses for the rest of my life. Until now.
My favourite bit of fashion is when something you've overlooked for years suddenly sidles into view, all fresh and gleaming and covetable. This season, just as I was beginning seriously to contemplate laser eye surgery, it's spectacles. The Gucci catwalks were particularly fabulous – androgynous, eccentric, romantic – and almost half of the looks were accessorised with glasses. Big round ones, sassy cat's eye ones, clunky fat ones. MaxMara's models were similarly bespectacled, while Prada and Chanel's new eyewear campaigns (Kristen Stewart as an androgynous photographer, her hair like a fallen Elvis) make glasses look impossibly sexy.
I'm clearly not the only one who's been seduced. People are buying more glasses than ever – in 2014, the world's largest eyewear company, Luxottica, registered an 18% increase in profits, generating more than £5.51bn in revenue.
As celebrities such as Anne Hathaway, Jared Leto and Meryl Streep begin to wear theirs on the red carpet, the glasses are becoming stars themselves. Lupita Nyong'o's even have their own Twitter account.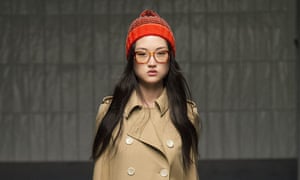 But they're glasses. Mate, they're glasses, the other bit of my brain says, quickly rifling through relevant images from my childhood and teens, and flashing them up on the inside of my contact lenses lest I forget.