The traditional mindset of shopping the post-Christmas sales is to hunt for that expensive piece you have been lusting after all season. But the ever-increasing speed of the fashion trend cycle means that buying a trophy piece of 2015 fashion when the year has only days to go is increasingly a false economy – however eye-catching the discount. The new breed of sales shoppers are applying next year's style rules to last year's collections.
Many of the trends thaat dominated the spring/summer 2016 catwalk shows – the clothes which will go into stores in February – can be found in the collections now being discounted. The key to resisting being baited by retailers desperate to offload the clothes with the most pressing sell-by dates is to approach the sales with a clear wishlist.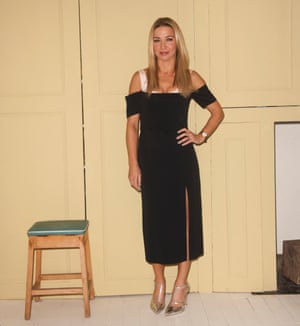 Avoid at all costs any clothes with words on them. Slogans have an immediate appeal, but nothing dates faster. However much they speak to you at this moment, you will be sick of them in weeks. Avoid, also, buying the dress you wish you'd worn at the Christmas party you went to three weeks ago. There is absolutely no chance you will want to want to wear it to next year's Christmas party.
One advantageous side-effect of the fast-forward trend cycle is that whereas once the sales were stocked with clothes that had been languishing on rails for four months, many of the pieces now being discounted only "dropped" six weeks ago. "Cold shoulder" pieces – dresses, blouses and knits with cut-outs exposing the shoulder – were a popular trend for the party season. But what we've seen so far is only the tip of the cold-shoulder iceberg. On the spring/summer catwalks, designers as diverse as Chloe, Ralph Lauren and Versace all made bare shoulders a focal point. A cold-shoulder knit or blouse, that you can wear with jeans and boots for winter weekends, is a sound Twixmas sales investment.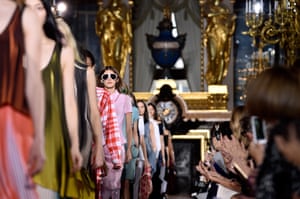 Sequin-avoidance is key to a successful sales shopping strategy. Nineteen out of 20 pieces on the shop floor will be too dressy to be practical, unless you have a specific New Year's party in mind, so you can hone your shortlist by a strict focus on pieces suitable for the low-key lifestyle of January and February. The "glam geek" trend, inspired by Gucci, dominated last season's high street and will continue into 2016. Not only the spring collection, but the recently unveiled pre-fall collection that will follow it into stores later in 2016, are permeated with a look which is half-library, half-disco: metallic fabrics, pussy bows, bright colours, chunky heels and a maximal approach to accessories. From this look, the best pieces to cherry-pick are midi-length skirts in fine pleats. Wear with a contrast colour crewneck sweater for an on-trend but easy daytime look.
Swerve the remnants of the 1970s trend, which will be much in evidence in the sale but is firmly on the skids. Instead, keep in mind the first key fashion phrase of 2016: post-normal. Post-normal translates as normal, with a twist: a knit with a sculpted sleeve, or a shirt elevated above the everyday by a ruffle. Old-season, new-look – and with a hot-off-the-press trend name to boot.
["source-theguardian"]