The designers to watch at London Fashion Week Men's SS19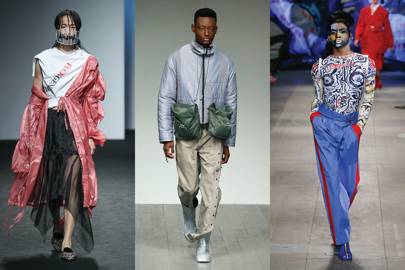 There might have been a few name changes along the way, but the thing that's always stayed consistent when it comes to London Fashion Week Men's is its steadfast commitment to, and belief in, nurturing new design talent – and this season looks set to be no exception. With the spring/summer 2019 shows set to kick off in the capital at the end of this week, the line-up is packed with both a variety of exciting new names, as well as a selection of international transfers from as far away as Korea.
Some brands are new to the catwalk, some are new to showing London, some have shown before and are frankly unmissable – but all are worthy of your collective menswear-focused attention. Read on for our precis on why you should look out for each, plus the information of when and where you can see them during London Fashion Week Men's.
London Fashion Week Men's runs from 8 to 11 June 2018. For more information, visit londonfashionweekmens.com
Blindness

We first experienced Blindness' gender-fluid genius a few seasons ago when we saw one of its first shows during Seoul Fashion Week in the brand's native South Korea. Now the design duo behind the label, KyuYong Shin and JiSun Park, are bringing Blindness to the UK for the first time since they founded it back in 2015. Expect politicised slogans, a bold blend of masculinity and femininity and the sort of professional execution that belies the brand's youth (it was nominated for the famous LVMH Prize last year).

Blindness shows at LFWM on Monday 11 June at 3pm. blindnessstudio.com

Iceberg

Originally established in 1974, this Italian brand has been headed by a British creative director, James Long, since 2016, so it's great to see he's managed to persuade the powers that be to bring the label over from Milan to London for the first time this season. What Long has brought to the brand already during his relatively short tenure is both to amp up its original remit as a sportswear maker and to bring some cool, eye-catching irreverence, mixing the label's trademark rainbow stripes with cartoon characters and bold graphics. No wonder it's been given the opening slot at LFWM.

Iceberg shows at LFWM on 8 June at 6pm. iceberg.com

Martine Rose

Martine Rose might have won fans recently though her work as a menswear consultant to Demna Gvasalia at Balenciaga, but she has been designing her own line in her own right for over a decade and it's always been a talking point. However, this increased international attention has led to a change: her seasonal presentations have become catwalk shows (with more looks), and gaining a ticket to see what's on offer has become a competitive sport among journalists and buyers. Rose now stages one of the most important shows at LFWM, and her clothes – gloriously slouchy, with plenty of proportion play and sporty elements – set the agenda for the season to come.

Martine Rose shows at LFWM on 10 June at 8pm. martine-rose.com

Kent & Curwen

Under the design guidance of creative director Daniel Kearns, Kent & Curwen has begun to gain its own cult following – we frequently see the label's regatta-striped suits and English rose rubgy shirts being worn at the buzziest parties in the capital. Having spent a couple of seasons establishing the "twisted prep" vibe of the label, we expect Kearns to start experimenting this season and expanding upon his already winning formula. Bring it on.

Kent & Curwen will stage a presentation at LFWM on 10 June from 1.30pm to 2.30pm. kentandcurwen.com

Something To Hate On

Something To Hate On is less a clothing brand and more a club for cool young artists, musicians, artists and fashion scenesters. Headed by model and musician Raff Law and his two friends Dan Mould and Max Clarke, Something To Hate On is a creative platform which is looking to create the next youthquake, staging events that give up-and-comers the platforms they need to express themselves. The clothes the label makes (or "merch", as the team behind it would say) are an intrinsic part of the package: logo hoodies, lightening-striped tracksuits and T-shirts. With Something To Hate On new to the schedule, we can't wait to see how it's going to shake it up.

Something To Hate On will stage a presentation at LFWM on 10 June from 10.30am to 12.30pm. somethingtohateon.com

CV22 Rugby England

Based in Rugby (which you might have guessed given the postcode that kicks off the brand's name), CV22 Rugby England is a new homegrown menswear label that pays homage to the ball sport famously originated in the town. It not only looks to do this through modern takes on items of kit traditionally worn to play the game, but also by exploring the sport's reputation as a gentlemanly activity, meaning a collection that verges into tailoring too. In short, this isn't just a label for the pitch, it's for the pitch meeting too.

CV22 Rugby England will stage a presentation at LFWM on 9 June from 9.30am to 10.30am.

Nicholas Daley

We've made no secret of our fanboying over what Nicholas Daley does – and we're clearly not his only fans, as for the past two seasons his presentations have been supported by the prestigious NewGen programme. Having cut his teeth designing for Nigel Cabourn, Daley, who is originally from Leicestershire, started his own brand in 2015, becoming hugely successful in Japan. Now he's conquering his native UK with his cooler-than-cool vibe: splicing slouchy shapes and traditionally African items such as dashikis with made-in-Britian fabrics and a love of music. Last season's presentation, staged in Covent Garden and featuring some of the country's most notable names in jazz performing a set, was one of our personal favourites – and we're seriously looking forward to seeing what he's got in store this summer.

Nicholas Daley will stage a presentation at LFWM on 11 Jun from 1.30pm to 3.30pm. nicholasdaley.net

Charles Jeffrey Loverboy

27-year-old Charles Jeffrey's rise to fame has been meteoric by anyone's standards. Having studied at Central Saint Martins, his work was spotted by Fashion East maven Lulu Kennedy after following an internship in the couture atelier at Christian Dior. Since then he has become a firm favourite at LFWM and one of the most talked-about designers in the UK, even winning the British Emerging Talent prize at the 2017 Fashion Awards. His USP is a celebration of life and love, of being young and having a good time, of queerness and club kid culture. His shows, filled with artistic performance from his peers, are spectacles in their own right but are also packed with clothes that will make their way to the rails of the world's most exclusive department stores. Some have hailed him as the next McQueen and we're inclined to agree.

Charles Jeffrey Loverboy shows at LFWM on 11 June at 1pm. charlesjeffrey.net

Daniel W Fletcher

It seems like only yesterday we were writing about Daniel W Fletcher's phenomenally clever, attention-grabbing Brexit protest-meets-presentation staged outside LFWM HQ back in June 2016. Now he's a must-see name on the schedule and, for the first time, staging a live catwalk show, bringing his louche, luxurious, bohemian menswear to life. We can't wait to see his collection in action.

Daniel W Fletcher will show at LFWM on 9 June at 9am. danielwfletcher.com

A-Cold-Wall

The man behind A-Cold-Wall, Samuel Ross, is arguably one of the best-connected men on the British fashion scene – and he's not even 30. Born in Northamptonshire, Ross is self-trained and has already worked with some seriously impressive brands, from Hood by Air to Adidas to APC to Nike and, notably, the now creative director of Louis Vuitton menswear, Virgil Abloh, on the designer's label Off-White. Ross debuted his utilitarian streetwear label A-Cold-Wall at LFWM this time last year and his third season is set to be his strongest yet – and one the press will pay close attention to.

A-Cold-Wall shows at LFWM on 10 June at 11am. a-cold-wall.com

Ka Wa Key

New to the LFWM schedule this season, Ka Wa Key is art meets fashion. The label is the result of a collaboration between designer Ka Wa Key, who graduated from the Royal College Of Art in London with a Master's degree in fashion menswear in 2015, and Finnish-born Jarno Leppanen, who helps to expand Key's designs into visuals, films, and performance projects. What you'll find in the label is streetwear gone soft: floaty fabrics, light colours and romance.

Ka Wa Key will stage a presetnation at LFWM on 11 June from 9.30am to 10.30am. kawakey.com

Oliver Spencer

Like a fine Nebbiolo, Oliver Spencer's work gets better with age. Now one of the longest-serving labels on the London Fashion Week Men's schedule, Spencer's show never fails to disappoint – and there's always a surprise, whether that's Idris Elba DJing or women marching out on the catwalk for the first time, as seen last season in the form of Daisy Lowe and Esquire's fashion director Catherine Hayward. This is rugged, sophisticated, wearable menswear at its very best – the kind of rare catwalk show where a man covets every single look. We'll raise a glass to that.

Oliver Spencer will show at LFWM on 9 June at 3pm. oliverspencer.co.uk

Paria/Farzaneh

Born in Yorkshire but now living in London, designer Paria Farzaneh channels her Iranian heritage through superb, eye-catching streetwear, and at the same time uses her menswear mastery to challenge the way the West perceives the Middle East. This will be her third season at LFWM, but she is fast becoming one of its most talked-about names thanks not only to her clothes, but also to the ways she chooses to showcase them (last season she staged her presentation in an Iranian restaurant). Oh, and if you needed any more reason to look her up, Frank Ocean also wore one of her shirts for his set at Lovebox last year.

Paria/Farzaneh will stage a presentation at LFWM on 11 June from 3.30pm to 5.30pm. pariafarzaneh.com

DanShan

Another design duo new to the schedule this season, DanShan is formed of a woman, Dan (from China), and a man, Shan (from Hong Kong), who met while studying womenswear at Central Saint Martins. Now, for their joint label, they have turned their attention to menswear and the ways that men express themselves through how they dress – interestingly, Dan was raised as a boy for the first years of her life by her family under China's former one-child policy as they had wanted a son. DanShan's clothes take clothes with traditionally masculine nods (work uniforms, school dress) and turn them on their heads, playing with shapes, proportions and exposing skin.

DanShan will stage a presentation at LFWM on 10 June from 2.30pm to 4.30pm. danshan.co.uk

Phoebe English Man

While Phoebe English has been designing womenswear since 2011, it wasn't until 2015 that she tried her hand at clothes for us guys – but it was worth the wait. Her collections for men are utilitarian, covetable, cool – pared-back, but with lots of detail, interesting shapes and exceptional construction. Her work has won her a variety of awards and prizes and her continued partnership with the NewGen programme ensures the most influential people on the fashion scene will see her work. And that's how the industry gets talking.

Source:-gq-magazine