Calvin Klein is all bite in New York with Jaws homage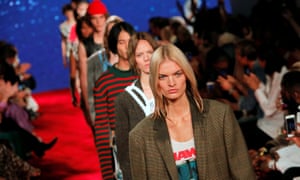 The Jaws theme is one of the most famous in cinema – but it's fair to say it hasn't had a fashion moment. Until now. On Tuesday evening in New York, it signalled the start – along with a floor-to-ceiling projection of the water in the 1975 Spielberg film – of the Calvin Klein spring/summer show.
The collection, designed by creative director Raf Simons, had references that all fans of the film would pick up. It felt, in fact, like a homage by a fan – Simons is one of fashion's biggest cinephiles, after all. If he explored horror films like The Shining and Carrie in the past, Jaws was equally fertile as slightly sinister inspiration.
Models including Yasmin Le Bon and Kaia Gerber walked on a blood-red carpet and wore the red beanie hat of Roy Scheider's character Martin Brody, while wetsuits and wet hair played to the beach setting, as did Breton tops and chunky sweaters. Some models wore Jaws merchandise – including vests and short-sleeved sweatshirts with the film's famous shark. With The Graduate also a reference, these pieces were mixed with Mrs Robinson-worthy 60s shift dresses in taffeta and kitten heels, as well as graduation gowns and mortarboards. It was this mix that made it such a strong collection.
A 60s printed dress worn with a wetsuit folded over it at the waist felt brand new and is bound to be much imitated next season. Simons has such influence on fashion that he made the balaclava a bona fide trend for autumn. With him endorsing it, the wetsuit could quite easily go the same way. Red beanies will certainly be popular.
After the show, Simons greeted celebrities including Naomi Campbell, Laura Dern and Remi Malek. He explained to a scrum of reporters that Jaws was an important film to him "because it is about so much more than a shark … I think it's a masterpiece."Simons said the explicit references – from the backdrop to the wetsuits and the hats – were due to him looking at the American landscape "more literally. I wanted to make something to hold." At a more basic level, he certainly made objects of desire.
Founded in 1968, Calvin Klein is celebrating its 50th anniversary this year. Simons is now two years in the job as creative director and has confidently been able to bring together the minimalist cool of the heritage with his own offbeat arty, pop culture aesthetic. It could now be said he has his feet under the table. As well as catwalk shows to excite the front row, he has brought in the Kardashians to be part of the advertising campaign for the underwear, bringing it to a huge audience in their orbit. Last month saw him launch his first perfume, Calvin Klein Woman. Fragrance is, of course, after underpants, the thing that Calvin Klein is most known for.
PVH, the company that owns Calvin Klein, has reported that the brand's sales are up 18% in the second quarter of 2018. This has been explained by both an investment in the online experience of customers – in order to court a younger consumer – and the curtailing of discounted products in department stores, in order to keep the reputation as a premium brand.
source:-theguardian.