I've got cabin fever. And not only the New Year, need-to-stop-eating-and-start-moving kind. I've got cabin fever because that's where I'd really like to be right now. In a cabin. Wooden, obviously. In a clearing in the middle of a forest, maybe. A lake would be nice, perhaps with a rickety little jetty. Door propped open with a stack of books, sheepskin over a chair on the porch, antlers on the sparsely decorated walls.
Well of course this is what I want. Not because I am remotely adventurous or quirky but because I am hopelessly, helplessly enslaved by fashion, and a log cabin is what everyone wants right now. Cabin Porn, the popular Tumblr documenting wilderness living is now a cult book. The sexiest character in the second series of The Affair on Sky Atlantic was Noah and Alison's wooden lakeside retreat, all homely quilting on a mezzanine bed, and a jetty to dive from.
That the log cabin is a thing right now is encapsulated most clearly in the Soho Farmhouse, the latest venture from Nick Jones's Soho House empire, and the place where anyone who is is anyone is hanging out right now. There are 40 log cabins, all pitched roofs and tastefully mismatched planks. There are trees and lakes and winding paths. I haven't been, by the way, but I've been down enough Google-image rabbit holes to feel like I know it well, down to the wooden rockers posed picturesquely at the Gatehouse, with its rustic crossbar gate. It is actually in Oxfordshire, but the look borrows from the iconography of Montana, or Sweden, or the Highlands.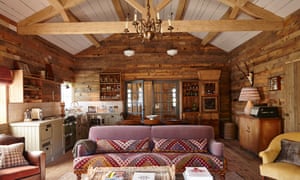 At any moment in time, there is an ideal place to which everyone aspires to hang out, and – just like the perfect body or the aspirational wardrobe – that ideal shifts. That's why Pinterest was invented, as an ever-shifting moodboard on which we can collectively tweak the specifics of how to lay a table, or pack a suitcase, or go on holiday.