Ashish: 'I just want to tell everyone: "I'm an immigrant"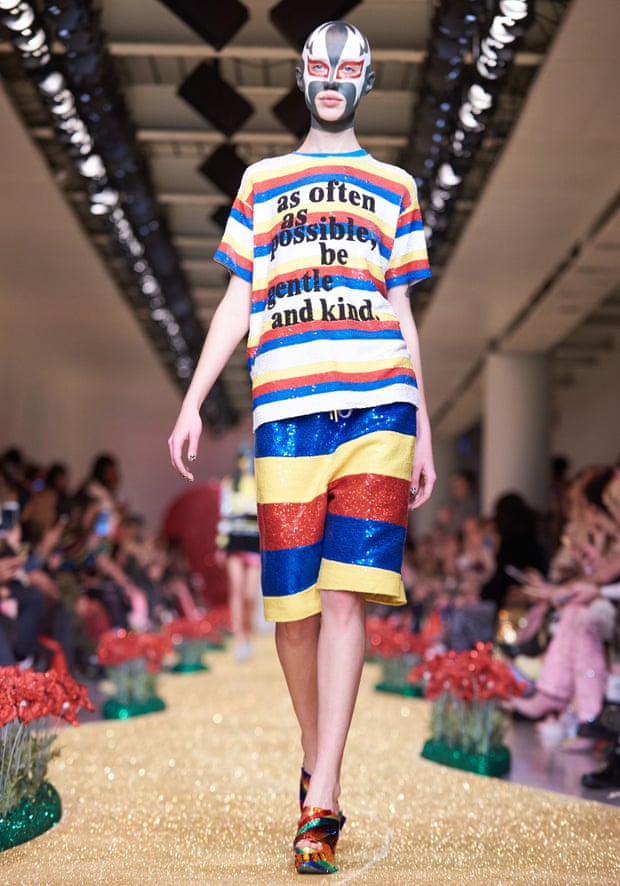 A model at the Ashish Ready to 2017-2018 show during the London fashion week. Photograph: NurPhoto/Getty Images
Ihave a Leigh Bowery quote up in my studio that says: "The reason I use sequins at the moment is because if I cannot cast the light at least I can reflect it." When I first set up my label in 2001, it really inspired me – I was in a dark place at the time, I was struggling with depression, trying to move to the UK and having a very tough time getting a work permit. One of the reasons I love sequins so much is because, for me, they are an escapist, magical thing – they became a protest against the shittiness of life, the banality of the everyday. Fashion can drive good things – they always say that the best art comes with the darkest times, when things are depressive, and I don't see why fashion can't be the same.
I don't set out to be political with my designs. When I wore a T-shirt that read "Immigrant" to my London fashion week spring 2017 show, I didn't expect anything specific to happen – I wore it because I was so disgusted by what was going on. Brexit ruined my summer and the day before the show I was feeling so annoyed. I thought, I just want to tell everyone: "I'm a fucking immigrant." I moved from Delhi, where I grew up, to the UK, where I didn't have any family or resources, but I've run a fashion company for over 15 years now. I offer jobs to people, I pay taxes in this country.
I don't like to call the issue of immigration political. My grandmother was eight months pregnant with my mother when she had to flee Pakistan during partition. I grew up with the story of her and my grandfather arriving in Delhi by train and moving into a refugee camp – for me that is a human story. You can make it into a political thing, but I don't think it should be.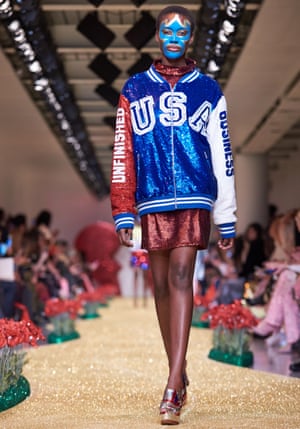 Slogans can be an agent of change. Words are very powerful – they can be used for and against people. I don't like it when people say, "We're really tolerant of immigrants", for instance. I think the word "tolerant" denotes something unpleasant that you don't really want to put up with. I think the world has become so accustomed to hearing words used in certain ways that it's really important to stop and actually think about words very carefully.
One of my favourite slogans, which I put on a top for my A/W 17 collection, is "As often as possible, be gentle and kind". That's important to say because after Donald Trump got elected, I felt there was a loss of empathy, of kindness and basic humanity. I wanted to remind people that it's OK to be gentle and it's OK to be sensitive – it doesn't make you weak. It takes more strength to be kind than it does to be cruel.
I think fashion is so much better when it engages with the zeitgeist, when it leads rather than reflects – fashion is boring when it stays in a bubble. I hope "wokeness" is more than a trend and is indicative of times to come – whether that be in terms of diversity, standing up for what you believe is right and for people who don't have a voice. I hope the industry will galvanise and try to improve things.
It's great that we're now having conversations about diversity. Fashion is meant to be aspirational, so if you're going to just have white models in your campaigns and on your runways, what message is that sending to young people? We need to change that stereotypical idea of what beauty is.
I remember a few years ago I did a show where I only used black models. Many journalists came up to me after the show and asked me why I did that. And I said, "Have you asked any of the designers who used all white models why they did that?" And of course diversity is not just about black models, it's about Asian models, South Asian models. People need to talk about that; true diversity is all-inclusive.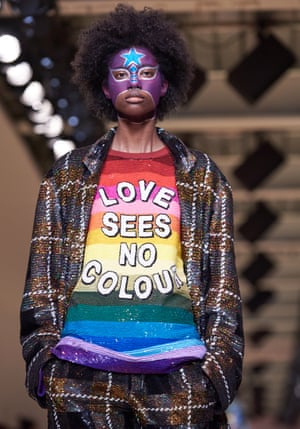 The issue of cultural appropriation is also linked to this. For many years there used to be fashion shoots where a white model would be flown to some exotic location and surrounded by the locals – I always found that so inappropriate. You've got an industry that is so lacking diversity but then you're trying to pass this kind of thing off as cultural appreciation – who thinks that is OK? Wouldn't it be better if you had more representation of those people within your industry? Then perhaps it would genuinely be seen as appreciation and not a novelty fun gesture you've done to sell a cute outfit.
When I did the Indian collection, some people said, "Oh my God, is that cultural appropriation?" I can't appropriate my own culture. I think it's all about an understanding of where something comes from. When I see a white girl wearing a bindi, for instance, I think: "Do you really know what that means? Do you know about colonisation?" But fashion is a good place for driving these debates.
This article appears in the autumn/winter 2017 edition of The Fashion, the Guardian and the Observer's biannual fashion supplement
["Source-theguardian"]